Red Carpet Makeup Look for Baker's Man Premier
These are the products I used to create the red carpet look that I wore for he premier of my film Baker's Man! I was really happy to see the final product and that I got to bring my mom. I had shot this film in 2014, almost three years ago this fall! I remember I had just joined the union that August and week later I booked my first network credit. About a month later I auditioned for this, one of the leads in a rom-com.
Baker's Man is about Thomas, a business man who is looking to give a grant to a deserving company. He is inclined to see Babe's Bakery andgoes home to Ohio to investigateto see if they qualify for their grant. He is suspicious of the new owner, Alyssa. Why? Buy it and watch! Upon meeting her, his suspicions remain high, but he starts to develop feelings for her. #Torn #PlotTwist No rom-com is complete without a best friend, so that's where I come in as Bella! :) (I say some pretty outlandish things so maybe no kids in the room?)
Inspiration
My inspiration for this look was a bit of a 60's throw back. I was envisioning Elizabeth Taylor and Sophia Loren because obviously. I wanted my hair dark and piled on top of my head, messy to show off my earrings. A strong brow, a subtle eye with lots of liner and lashes and a sculpted cheek. I felt mission accomplished. I was doing a super cute off the shoulder number with a pink champaign accordion skirt and just envisioned myself in Cannes, but was in L.A. but just visualizing and manifesting. I often sit here thinking, what would Elizabeth Taylor do?
The products and how i applied them
face
Primer
So for this look, I used a new primer from Terry Cosmetics. Terribly Densiliss Primer. The artist at Nigel's told me that his mother started using it and it transformed her skin, so I got it for my mom. I didn't ask the price… it's a little expensive but boy does it work! It's an anti-wrinkle serum based primer, so it not only helps your makeup glide on, it's an actual skin care product. I applied with finger tips and within four or five minutes, I looked at my skin in the mirror, and it was FLAWLESS. No makeup, just pure smooth skin, no pores, no fine lines, and that was before I popped on my foundation. I will say I still saw redness, but I have very pink skin and had just washed with Mario Badescu glycolic foaming cleanser. It has a soft focus complex, which essentially is feature that blurs and softens any imperfections. Fantastic primer. Worth the investment, especially for mature skin. My mom saw a difference in her makeup, as well! You'll see a picture of her look, too!
Foundation
I used two Hourglass foundations for this look. I used the Vanish full coverage foundation stick dabbed on my chin, cheeks and forehead then went on with the Veil foundation (my fave!) using a Real Techniques foundation brush. I typically wouldn't use both, but since its' special occasion, I wanted a bit more coverage than my Veil typically gives me (which I love and wear almost all the time!) A thin layer of the Veil after the Vanish gives my skin a soft glow that makes it look healthy and hydrated.


Concealer
I doubled up again, just for tonight. I used my Hidden Hourglass concealer all over, from the inner corner of my eyes, into the well and into the outer part of my eye ball for full coverage. I let that dry down and then after I did all of my shadow, I went in with this new eye brightener I found from Terry Cosmetics! It's a concealer and brightener in one. It's super silky, lightweight, hydrating and the perfect brightener to my dark gray under eye circles. I have a shade that has a ton of coral, which helps counter balance the darkness. Again, it's a little pricey, but it's definitely worth it. It was my birthday! TREAT YOSELF. The makeup artist put it on me and I looked like a new woman. SO GOOD.
Powder
I always use my trusty Hourglass Ambient Powder! Set it with my Real Techniques large powder brush all over once I'm done. You know I love this powder. Luminous finish. Never cakey. GORGEOUS.
Contour
I used my trusty contour from MAC Cosmetics, either the Maleficient sculpting powder or something like Emote, Tantone. Something cool. So many brands have great contouring shades these days. I just got the KKW Beauty contour kit and have some opinions and suggestions for how to best use it!
Blush
I had used my favorite, Nars Angelica just on the apple of my cheeks!
Brows
I went in with the Chocolate brown shadow of the palette using a large angle brush. You can see I went a bit more sculpted than usual, but still brushed out to look soft. I know. I sound like I don't make any sense. The ladies from my inspiration boards had a fuller, thicker brow that had texture, it wasn't flat like with a brow gel or with a superfine pencil.
Eyes
Let me tell you something: MAC Layin Low Paintpot. If you dont' have this you're doing it wrong. Not that there are rights or wrongs to make up… but this honestly, in my opinion, is the best do it all eye primer. It has a peach tint to combat darkness so it neutralizes your skin tone on your eye lid so the shadow sticks and looks true. Some primers are too light, too yellow, too bright, and then everything that lays on top of it just looks flat and white, and not flat white like the coffee. Like. NON DIMENSIONAL. *VIOLIN SCREECH.* What I love about it is that it is oil absorbing, so even if your eyes are oily or you get hot during the summer, it keeps whatever you place on top of it in place. This is DEFINITELY a red carpet staple!
I dabbled in a bit of all of the shadows shown above which are: The Lorac Matte Prop Palette, MAC Phloof, MAC Wedge and MAC Swiss Chocolate.
I started with a little MAC Wedge in my crease to shape my eye with a large fluffy blending brush.
Then I popped a little MAC Swiss Chocolate in the outer V of my eye with the same large fluffy blending brush. I did the slightly darker shade for dimension and to serve as a guide for how high to take the lid color.
Go in with MAC Phloof! Just a hint on the brow bone and the tear duct... Then I go with a clean blending brush and blend Wedge over it to soften it out.
Then eyelid and crease (yes, more!), I went with Lorac Matte Pro Pallet's Pink Mauve all over my eye lid and crease. I also wrapped this under my lower lash line. I did this after I had done my highlighter as to soften it. I used a large flat shader brush. Lashline to the crease and gently blend it into that MAC Wedge and Swiss Chocolate you laid down as a guide for how high to take the mauve.
Then on the outer V of my eye, where things escalated very quickly, I used a MAC 219 Pencil brush and the Jet Black shadow in the palette to create a little V. It was so intense, I was so upset and panicked, then started blending it out with a little bit of MAC Swiss Chocolate and crisis averted. I then went to line the upper lash line with an angle brush using Jet Black, then buffed it out with the flat part of the pencil brush. I also gently lined the outer half of my lower lashes with the angle brush. **Careful with this shadow palette.** The colors are gorgeous and soft and super fine (which is a big selling point for me! I love it!) so be sure to build up the color because you'll have a ton of fall out. That much fall out makes your foundation you already perfected so frustrating to rebuild!! I really didn't think a liquid liner is necessary for this soft but smoky look. I wanted it a bit softer and a little more lived in that a super perfect wing. I LOVE using black shadow as my liner! There's a smudge lived in quality to it that I love. We kept the lid soft and light, then just went heavy on the outer corner and liner, VOILA!
Then tons of primer, mascara and of course, my Lily Lashes! I wore Mykonos. I love how thick and full they are. They really make your eyes so big and bright. My girlfriend Ashley gifted me some one day and I am forever grateful! <3 Thanks Ash!
Lips
Lipstick Queen Mideval Red is my favorite, then I popped a little bit of MAC Angel on top. I wanted a soft natural mouth pink. The tint of the Lipistick queen gives me that just bitten color a lot of people naturally have, then the MAC Angel just softens and makes it a perfect baby pink without looking too "mod." I't s nice cool baby pink with a hint of gold so it isn't too blue. I skipped lip liner because I wanted a livable, real looking mouth. I love lip liner, but sometimes it makes me too polished, and I wanted something easy.
I was totally feeling this relaxed yet heavy eye vibe. For me, it's all about starting with fresh skin and whether I do a soft eye or a heavy eye, I'm comfortable because my skin looks and feels fresh. I think any makeup artist will tell you that.
I also did my mom's hair and makeup for the evening, she looked stunning!! Don't you agree? We did a pretty carmel smokey eye on her. I'm telling you, that Terry primer is amazing. My mom and I both looked at each other like, "Woah. We look good. Like, really good." We used Hourglass Immaculate on her as she likes a bit more coverage and a matte finish.
Fun fact: I was bringing my small clutch, it holds like, a lot of credit cards, but no makeup… It's essentially a chained wallet. And it doesn't hold a whole lot of makeup. As I was leaving, I said "Mom, are you sure you're bringing that tiny purse?" And she said "yes." And I said, "Will you bring my tote… so I can put all my makeup in your bag." :] And like the great momager that she is (watch out Kris!) she did it because she loved me and it was my first premier! I had all the things I needed for touchups! Yay!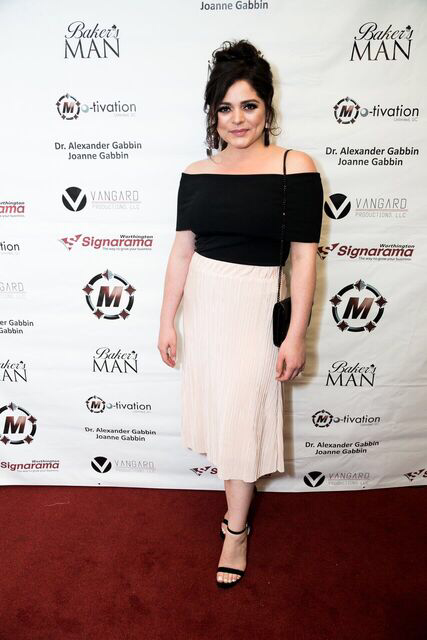 She was so excited to be there. I'm her daughter so to her, I'm everything— and a no-body, we're just keeping it real— but let me tell you, the moment Maurice (our lead actor!) stepped out of his car, he had like, step and repeat and a box of cupcakes in his hands, and my mom went up to him and said, "Can we take a selfie?" I'm like, Mom. We're still in the parking lot… nothing has been set up. We had a super fan in the house. My mom is the best, and she was a hit. She was basically investigating everyone's careers and is keeping tabs on everyone and when their next show or film is airing. She's basically Mary Hart. Be sure to follow Sandy's reviews. ;) I was really happy that I was able to share this first with her. I always said I would bring her to my first red carpet, and here we are! <3 On to the next! :)
I hope you find this makeup look to be inspiring. Again, this is just a springboard for you to use of some things that I like. And I would love your constructive criticism! I hope it was easy for you to follow along, as well!!
See you soon!
xx, Alyssa
P.S. If you want more information on how you can rent or watch the movie, keep reading!
You can purchase or rent the movie on iTunes or You can click on either of those links or the movie poster and it'll take you directly to where you can purchase and watch!
Here is the trailer!
Happy watching!!
Xox, Bella Jobs